The Student Welfare Team is able to offer support to your students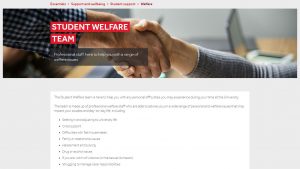 when they are experiencing a level of difficulties or concerns that are non-academic and are having or could have a significant impact on their studies if not supported, as well as on their overall health and well-being.
The team is not set to replace a general level of pastoral support provided by you as their academic tutor, but to support your students when you identify that they have personal welfare support needs that maybe reoccurring or at a greater level of complexity in terms of your time and knowledge capacity to support.
The welfare team can support students who may present with a range of issues such as home sickness and settling in, concerns and conflicts with other students who they are living with, emotional and mental health issues and family and other relationship difficulties for example.
Your school's allocated welfare officer will look to support your students through the provision of advice, sign posting, practical assistance and befriending. A list of Schools and their allocated Student Welfare Officers can be found here: Student Welfare Team and allocated cluster Schools.
You are able to connect your student with the welfare team in a number of ways:
·         You can refer your students using the Notification of Concern form, which will be picked up by your school's allocated welfare officer and they will make contact with your student to arrange an appointment and stay in touch with you to keep you informed.
·         You can also access a duty Student Welfare officer to inform or discuss any issues of concern you might have in relation to a student by phone or via email using the duty number 4777 or email studentwelfare@reading.ac.uk. (please note the duty SWO may be managing another student situation, but will respond at the earliest opportunity)
·         You can also support and encourage your students to directly access help from the Student Welfare team, by emailing studentwelfare@reading.ac.uk  looking to arrange an appointment with their Welfare Officer or attend a drop-in service in the Carrington building, available Monday to Friday afternoons, 1.00 to 4pm, where they can come along and speak to a duty Student Welfare Officer.
Your Student Welfare Officer will work closely with you, your student and other professional services that may be involved, to ensure appropriate and responsive support plans are in place.